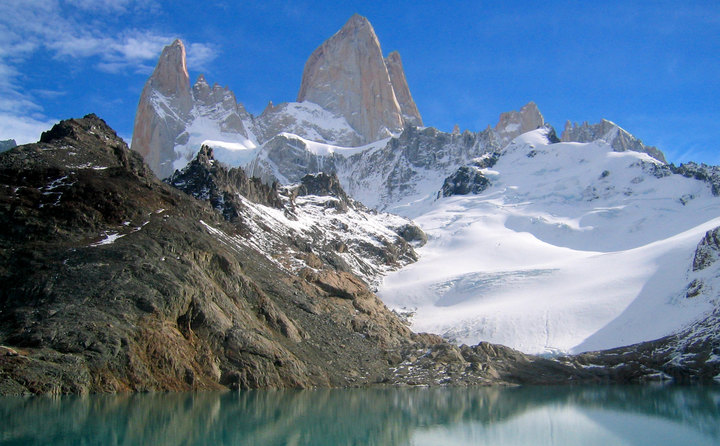 DESCRIPTION
On Friday 14th April 2006, whilst sitting on the turquoise shores of Laguna de Los Tres in the light of Mount Fitz Roy, Patagonia, Argentina, Paul Finn had a flash of inspiration and realised that he should set up a graphic design company and name it after the mountain he was looking at. So Fitzroy & Finn is the graphic design studio of Paul Finn supported by the ever present Mount Fitz Roy, elevation 11,171 ft, some 8181 miles away from Paul's London studio.
Fitzroy & Finn provide a thorough research driven design approach. This detailed process adapts to all forms of design briefs; from designing and defining comprehensive style guides for brands or websites, to designing brand identities or responsive websites. We bring a focused, committed and detailed approach and work closely with our clients, who include Transport for London, Tate, BBC, ITV, Henley Royal Regatta, Royal Opera House, Serpentine Galleries, IMG and Weltkiosk.
 
When not in the studio Paul is Platform Leader in Information & Systems on the BA (Hons) Graphic Communication Design at Central Saint Martins. He has also been an Associate Lecturer on the Foundation Course in Arts & Design (FAD) and on the MA Communication Design. Paul also is a regular visiting lecturer and runs workshops at University for the Creative Arts, The Glasgow School of Art, London College of Communication, Sheffield Hallam University, Camberwell College of Arts and Leeds Metropolitan University. Paul was awarded a PG Cert in Teaching and Learning from UAL in 2012, and is a HEA Associate Fellow.
He has written a number of articles on graphic design for Grafik magazine and spoken about his love of typography on BBC Radio 4's Saturday Live and Front Row. Please contact us should you or your organisation wish to work together on a project, details are on the contact page.